A pheromone is a chemical, which humans, and all animals produce, and is capable of acting like hormones outside the body of the secreting individual, to influence the behavior of the receiving individuals.
There are many types of pheromones, such as alarm pheromones, food trail pheromones, sex pheromones, and others that have a direct affect on behavior or physiology of another individual of the same species.
Some describe pheromones as behavior-altering agents.
​​Using our sex pheromone scent you will notice a distinct improvement in the way opposite sex approachs, interacts, flirts, and responds to your advances.
ATTRACT WOMEN or MEN EFFORTLESSLY
DEVELOP INSTANT CHEMISTRY
HAVE MORE SEX
Article From Popular Media Source
Love Is All in Your Head – Or Is It in Your Genes? – Laurie Barclay, MD WebMD Health News
"A 1998 study from the Athena Institute for Women's Wellness Research in Chester Springs, Pa., documented the sexual activity of 38 young to middle-aged heterosexual men while using pheromones.
Users of pheromones, but not of an inactive control substance, had increased frequency of informal dates, affectionate gestures, sleeping next to a romantic partner, foreplay, and sexual intercourse."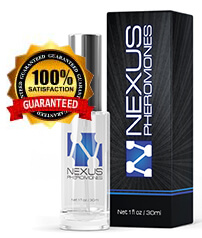 You Can Try
Nexus Pheromones™
RISK-FREE For 67 Days!
It's that simple. Either the product works for you – or we return your money.